faux painting and custom murals...
Art Effects is located in central Florida and is an hour away from Tampa and Orlando. Many of our finishes and especially our murals can be shipped across the country and throughout the world.
Our "Art Effects" in Trompe L'Oeil and Murals
Welcome to our "Art Effects"
, where "Painting Your Imagination" is accomplished with trompe l'oeil (Trompe-l'œil), murals, faux finishes and hand painted furniture.
"Art Effects" based in Central Florida is the result of the combined artistic endeavors of trompe l'oeil muralists Tim Haas of Tim Haas Artistry and Linda Cassels-Hofmann of Castles In The Air. Together we use a wide variety of techniques to create imaginative illusions with our painted wall murals and trompe l'oeil artwork. Whether it is through the skillful art of faux finishing or the tricks of trompe l'oeil, our wall murals, hand painted furniture, unique forms of trompe l'oeil paintings, decorative wall textures and sophisticated faux finishes will have you wondering...

what is real and what is not.
Trompe L'Oeil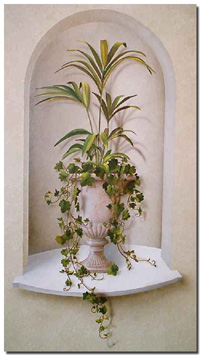 Murals
Mural
... A very large image,
such as a painting applied directly to a wall or ceiling.
Using techniques in trompe l'oeil and faux finishing Art Effects can create hand painted wall murals that will make an impact on whoever enters a room. Follow the link below to see many of Art Effects' painted murals using trompe l'oeil,
faux finishes with unique effects and other illusions with art.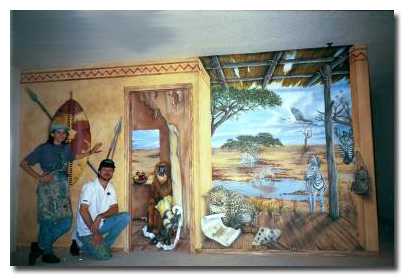 Follow this link to view the step by step process of The African Mural

Faux Finish Painting and Plaster Finishes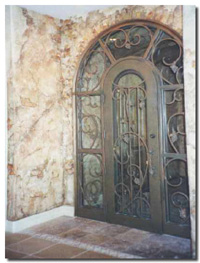 Sophisticated Finishes using Faux Finishing and Plaster Textures
Wall Murals in Children's Rooms
Using skills in
trompe l'oeil
and
faux finishing
Art Effects can create imaginative children's murals or accents in your child's room to fulfill their wildest dreams.
Now it is easy for you to own an Art Effects' Mural... Portable Murals Easy to place where ever you want and easy to move.
artisticallyspeaking.com
An online magazine created to be the leading resource of contemporary decorative art and artisans.
The mission of artisticallyspeaking.com is simple:
giving voice to a new generation of decorative artisans
Sign up Today for this free online magazine!