Faux Finish Painting and the Art of Faux
Faux paintings are seen throughout history, starting with the Egyptian Pharaohs when they employed artists and craftsmen to replicate wood graining, using the techniques of faux finishing. Through the centuries the Greeks and Romans made huge advancements in the field of the Decorative Arts. With faux finishes and
trompe l'oeil
, they could cut construction costs by painting the grand architectural elements and other textures such as wood, stone, and marble that were in high demand at the time.
Faux and the Decorative Arts
In the decorative arts' probably the most popular faux finishes are faux bois and faux marbre, that is faux wood and faux marble. Both these techniques in faux painting were used when the real thing was too expensive or not practical in the construction field. Over the years faux finishers have developed many styles and techniques to duplicate the look of such finishes as
aged plaster
, marble, limestone, wood and distressed paint.
What has taken years to accomplish naturally, a skilled faux finisher can recreate in days and sometimes even hours.
Faux Stone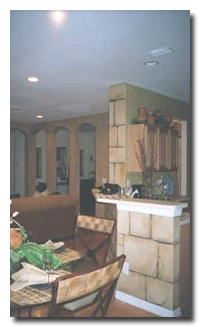 Faux painted stone wall...
Let's Paint Faux Stones
Faux Art and Trompe L'Oeil
The art of faux finish painting and
trompe l'oeil
both can co-exist in any artist's or muralist's portfolio. Both a faux finish painting and a piece of trompe l'oeil art are used to create an illusion,
that fools or "tricks the eye"
.
Faux Paintings VS. Trompe L'Oeil
If you think you have never seen a painted faux finish, well you are probably wrong, if executed correctly faux paintings are suppose to go unnoticed or at least designed to make you take a better look. Thus
"the trick"
which is what makes faux finishes closely related to trompe l'oeil. Even though they are alike in many ways there is a distinct difference between a faux and a trompe. Some faux finishes such as marbles and graining, are only successful if they are not recognized as being faux.
The viewer needs to remain in the dark for the "faux trick" to be successful.
In a trompe l'oeil the
"trick of trompe l'oeil"
is only accomplished if the viewer becomes aware they have been tricked.
Faux by Art Effects
Although you would expect to see examples of faux walls in our portfolio,
in our murals and artwork faux painted finishes are usually used either
as a back drop for our trompe l'oeil artwork
or within our murals where it is needed.
I guess this is where our
faux finishes become an "Art Effect"
.
Our Effects in the decorative arts are endless.
Of course we do have a few examples of walls
that we have just simply applied a faux finish.
Faux
Follow the links below to some of our many faux and decorative finishing examples to see of how you can incorporate a faux finish into your unique wall treatment. Whether you add these decorative effects to a mural or create a
unique piece of furniture
,
sometimes the simplest of techniques will cause a second look.
Follow Art Effects as we add to the faux finish and decorative painting industry causing you to stop and take a second look.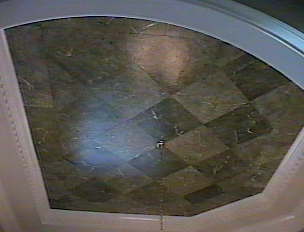 To see how this faux finish was accomplished
see our Faux Marble On A Ceiling
step by step and how to page.