Wall Murals in Children's Rooms
Using skills in
trompe l'oeil
and
faux finishing
Art Effects can create imaginative children's murals or accents in your child's room to fulfill their wildest dreams.
Now it is easy for you to own an Art Effects' Mural... Portable Murals Easy to place where ever you want and easy to move.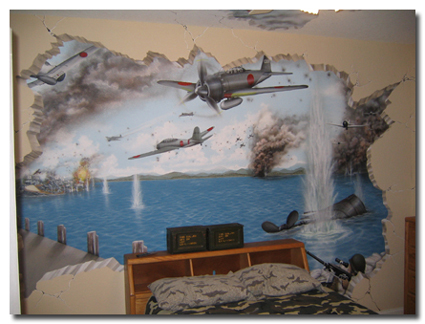 Children's Murals...How fun is a Kid's Room
This is where Art Effects can really "Paint Your Imagination"!
Creative Kids Rooms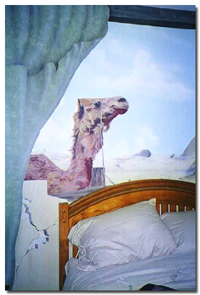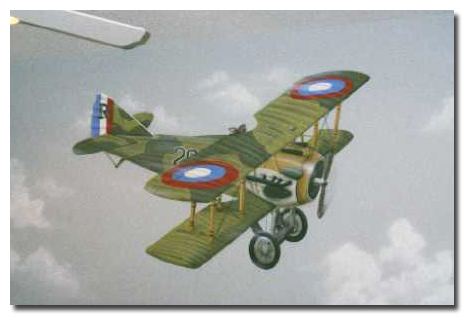 "Up, Up and Away!"
Planning Your Child's Room
When planning, designing or decorating a theme and mural for your child's room you need to consider, that eventually they will grow up. Their room needs to grow with them. Of course this doesn't apply if you are so into art, you don't mind changing it all later. I'm sure you will have no trouble finding a decorative artist somewhere.
Suggestions for Painting Murals in a Child's Room
Some suggestions we give our customers for children's murals are:
Really plan on the placement for the mural, consider where heavy traffic and furniture will be. We suggestion painting the mural or accent above chair rail height, high or in a corner.
Maybe consider painting the mural on the Closet Doors... this is one spot you will never have to worry about putting furniture in front of.
When picking a theme and mural, try to stay clear of fads or characters that might get dated, some loose their appeal faster then others. Remember your thirteen year old will be inviting his friends over, he might be a little embarrassed by his eight year old mural theme.
Although whole room murals are awesome it is not necessary to completely cover all the walls to make a lasting impression. Some times a simple Art Effect can go a long way. Let your budget lead the way and you will be successful in giving your child a very creative kids room!